The Guadalajaran
This user hasn't shared any profile information
Posts by The Guadalajaran
0
More than 180 of San Diego's finest restaurants are gearing up to participate in San Diego Restaurant Week this year! Starting next week (Jan. 21-28, 2018), your amigos at Casa Guadalajara are offering up lunch and dinner options at delicious discounts. Check out our two available menus below.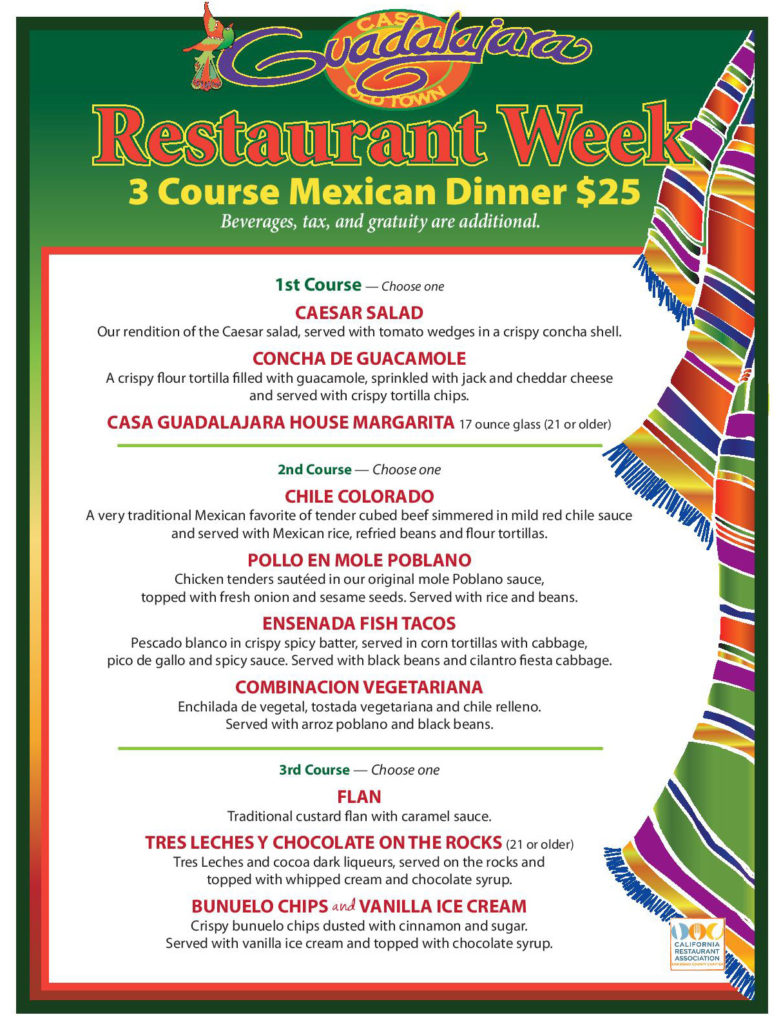 0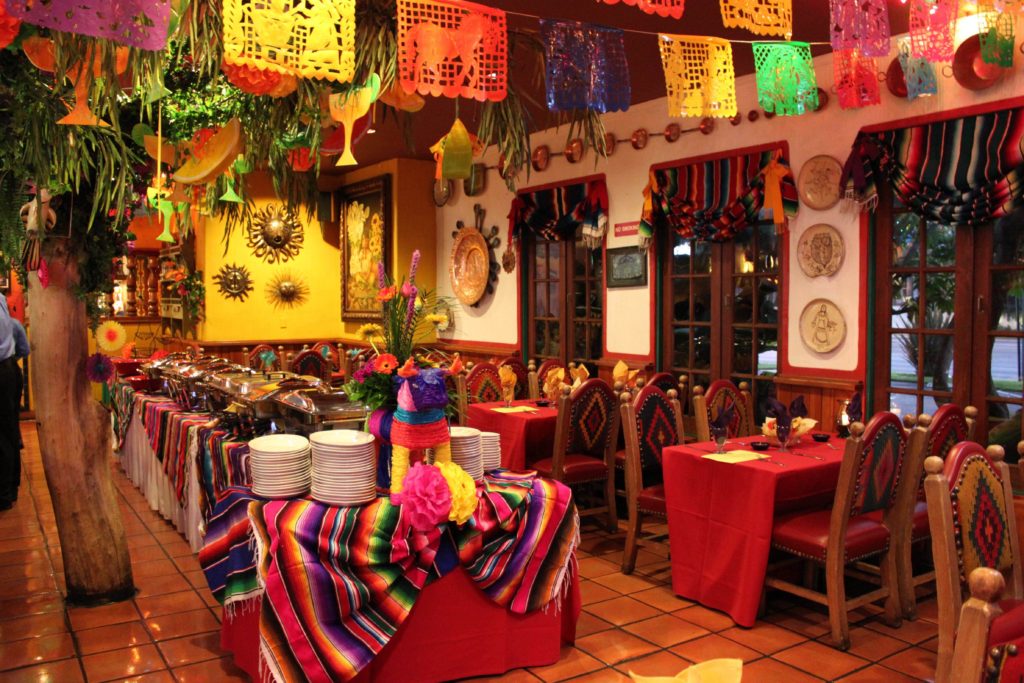 ,,
Dazzle guests with a festive party to remember and have Casa Guadalajara take care of the details! When you let us host your party in the heart of Old Town, your guests will enjoy our traditional Mexican food, strolling mariachis and world-famous margaritas. Whether you are throwing a holiday gathering or a casual company lunch, we have a variety of delicious menu packages that cater to your needs. Or, have it your way with a menu custom designed to fit your one-of-a-kind event!
Diane Powers' Casa Guadalajara is a top San Diego destination for authentic and award-winning Mexican cuisine, showcasing friendly service and the very best in Mexican culture. We have a gorgeous dining room, two charming patios and a lively Cantina available to host whatever special occasion you are celebrating.
Casa Guadalajara welcomes guests from near and far with its vibrant atmosphere and fabulous décor. The fiesta begins when you walk through the door – your party will be welcomed with vivid colors, hand-painted artwork and hand-crafted furnishings. Our environment makes every occasion extra special, spotlighting fun entertainment, delicious cuisine and refreshing cocktails. Diners can sip on frosty giant birdbath margaritas while enjoying regionally inspired Mexican fare, alongside Mariachi music played by our very own Cielito Lindo.
We take pride in serving the best traditional and regional Mexican cuisine – all of our recipes are made from scratch using only the finest ingredients. From freshly made tortillas to a selection of 14 homemade salsas and sauces, Casa Guadalajara offers a wide array of choices for all tastes.
For those with special dietary needs, Casa Guadalajara provides special gluten-free, vegetarian and healthy dining options.
We also offer our "Fiesta Express" menu, making party planning easy by offering our delicious cuisine for pickup or delivery. For more information or to book a reservation, call 619-295-5231 or email rolsen@casaguadalajara.com.
Treat your guests to the true spirit and taste of Mexico at Casa Guadalajara!
0
Mariachis, Margaritas and More! Celebrate Cinco de Mayo at the Bazaar del Mundo Restaurants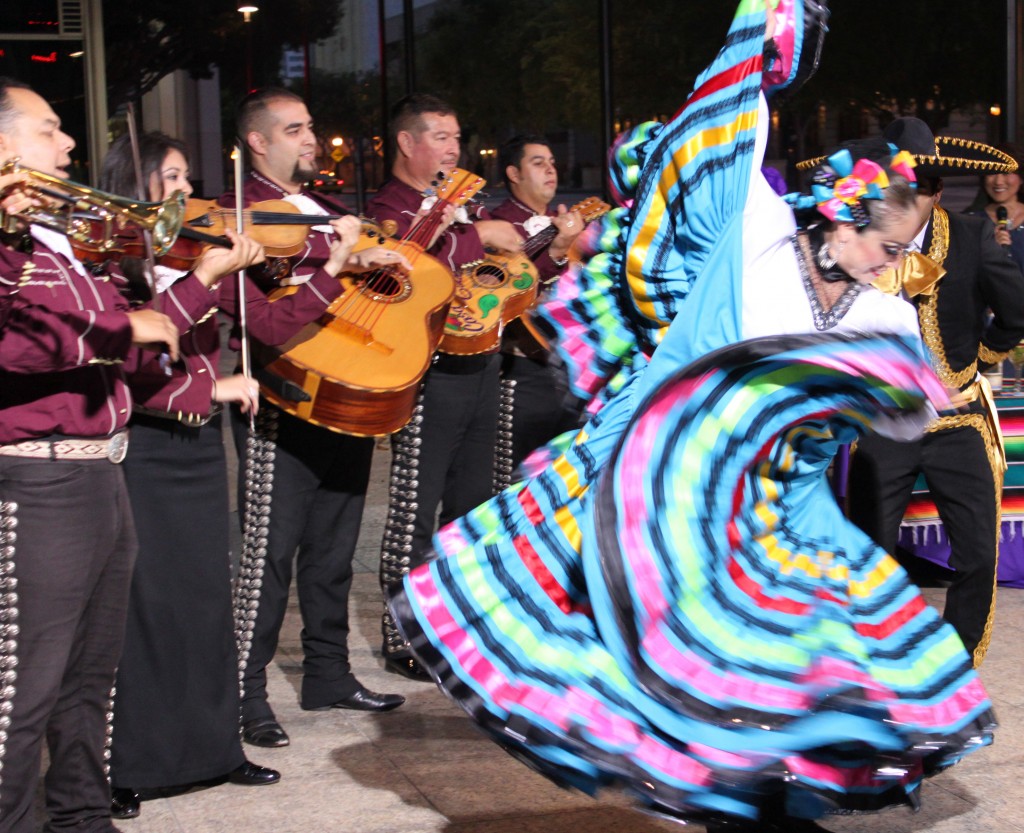 Enjoy live mariachi music, folkloric dancers, authentic Mexican cuisine and frothy margaritas during the Cinco de Mayo celebrations at Diane Powers Bazaar del Mundo Restaurants in San Diego: Casa Guadalajara, Casa de Pico, Casa de Bandini and Casa Sol y Mar.
Through her restaurants and Bazaar del Mundo Shops, Diane Powers continues her dedication to the exposition of Mexican cultures. Now the embodiments of all things "fiesta!", her award-winning restaurants will feature the "Cincorita," a delicious strawberry and kiwi margarita decked out in the colors of the Mexican flag, plus ­inspired "Cinco" fare and other festive specials to celebrate the occasion.
Offerings and entertainment vary by location:
Casa Guadalajara, Old Town:
4105 Taylor Street, San Diego, 619-295-5111, www.casaguadalajara.com
May 5–6: Guests will receive discounts on two Mexican food favorites – Chile Verde and Chile Colorado – as strolling mariachis and folkloric dancers perform throughout the day. The restaurant will also host promotional giveaways from favorite tequila brands such as Casa Amigos, Hornitos, Partida and Gran Centenario.
Casa de Pico, Grossmont Center, La Mesa:
5500 Grossmont Center Drive, La Mesa, 619-463-3267, www.casadepico.com
May 5–6: For true "Cinco" style, enjoy the "Enchiladas Banderas," a savory sampling of chicken, cheese and beef enchiladas served with three different sauces – rojas, verde and blanca (red, green and white). Music and folkloric performances will take place throughout the day as well as promotional giveaways from Dos Equis, Corona, Hornitos, Cabo Wabo, Grand Marnier, Puerto Vallarta Tequila and more.
Casa de Bandini, The Forum, Carlsbad:
1901 Calle Barcelona, Carlsbad, 760-634-3443, www.casadebandini.com
May 5–6: Celebrate with music, folkloric dancing and hourly specials on select margaritas and tequilas, including Casamigos, Casa Noble, Hornitos, Clase Azul and more. Guests will also meet representatives from their favorite tequila brands and receive festive giveaways and souvenirs.
Casa Sol y Mar, Del Mar Highlands Town Center, Del Mar:
12865 El Camino Real, 858-792-4100, www.casasolymar.com
May 5: Get in the spirit with a build-your-own nachos bar on Casa Sol y Mar's beautiful outdoor patio, or take a tour of Mexico with $20 beer buckets and $15 Patron flights in the lively Cantina. Strolling mariachis and folkloric dancers will perform in the dining room as guests enjoy $5 house margaritas and Mexican beers. Representatives from Corona and top tequila brands will also liven up the party with giveaways and souvenirs.
Sometimes confused with Mexican Independence Day (September 16), the Cinco de Mayo holiday celebrates the Battle of Puebla, in which vastly outnumbered Mexican forces defeated the Imperialist French Army on May 5, 1862.
0
Win a $50 dining certificate to use this Valentine's Day, or after, from Casa Guadalajara!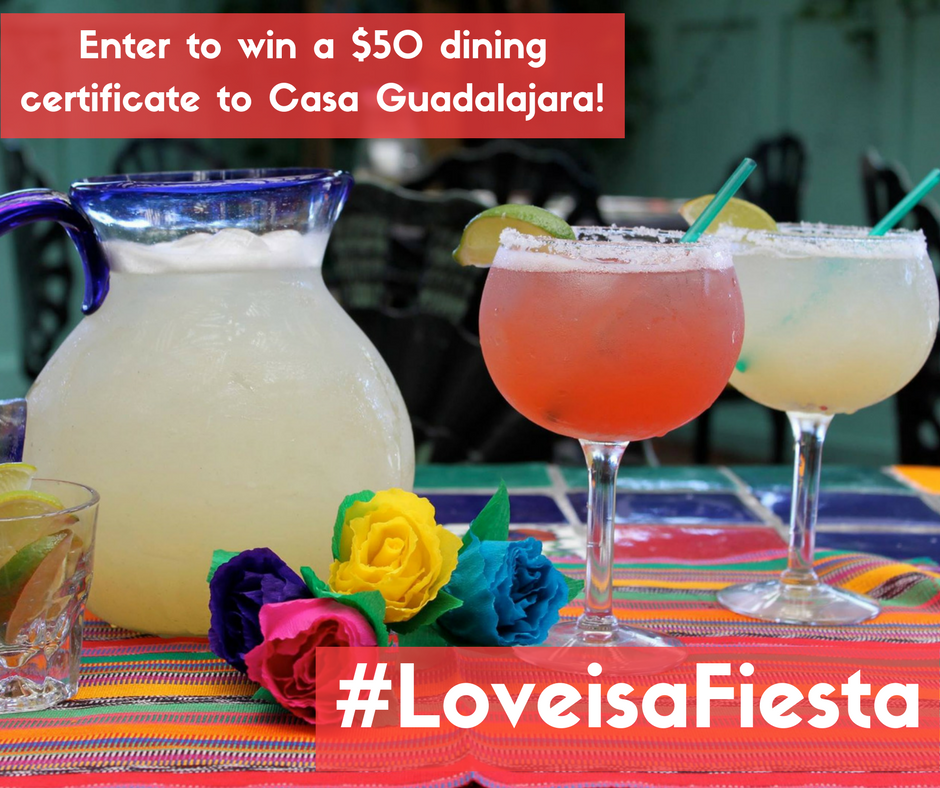 Share a photo on Facebook, Twitter or Instagram of yourself with the love of your choice eating at Casa Guadalajara. Tag the restaurant and use the hashtag #LoveisaFiesta, and you could win a $50 dining certificate to use for a special Valentine's Day dinner, or any time in 2017!
Submit your entries before Friday, February 10. Two entries will be selected at random to win. Winners will be announced on Monday, February 13.
*One entry per person, per restaurant, please.
Tag us using the following handles:
Facebook: facebook.com/casaguadalajara
Twitter: @CasaGuadalajar1
Instagram: @CasaGuadalajara
0
Hey PokémonGo players – Casa Guadalajara is an official PokéStop in San Diego. Let us turn your quest to catch 'em all into a fiesta!
0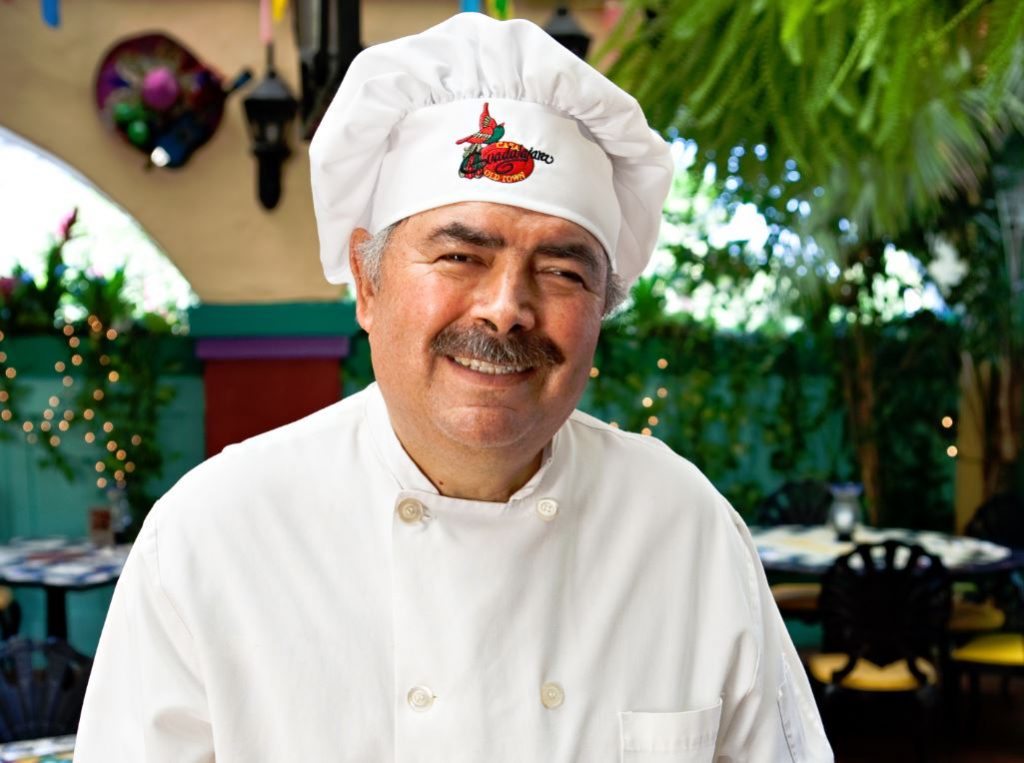 Come celebrate the art of delicious design during Bazaar del Mundo's "Fashion + Flavors," a vibrant new event by Diane Powers featuring food, fashion and fun, Friday and Saturday, June 17–18, 10 a.m. to 8 p.m., at the corner of Juan and Taylor Streets in Old Town.
To give the event added "flavor," our own Chef Jose Duran will present cooking demonstrations of his popular summer salad and dressing recipes. Guests can enjoy tastings of his splendid creations along with a light lunch served in the beautiful Bazaar del Mundo courtyard at 11:30 a.m. both days.
For eager "fashionistas," guest artists will showcase their handmade creations, including unique fashion accessories, clothing and crafts. Shoppers can peruse collections of silk scarves, leather handbags and jewelry made from metals, glass, semi-precious stones and sparkling jewels that are contemporary, as well as ethnically inspired.



Visiting artists include:
Mary Brown: Using unique stones and silver, Ms. Brown creates beautiful, one-of-a-kind ethnic jewelry pieces.
Bonita Chamberlin: Ms. Chamberlin presents silver and semi-precious stone jewelry,   handmade in Afghanistan to support local villages.
Beautiful Soul: Hand-crafted jewelry made with natural gemstones, pearls and metals.
Melissa Gladhill: Found objects and ceramic pieces are incorporated into Ms. Gladhill's unique jewelry.
DanDee Silks: These hand-painted silk scarves, ruanas and ponchos are made and designed by self-taught, retired school teachers in brilliant color combinations.
Kim Yubeta: Attending Friday only, Ms. Yubeta creates one-of-a-kind "treasure" necklaces.
Erda Bags: Handbags for every event made from fine leathers and tapestries.
Rochelle DiMaggio: "Day of the Dead" inspires Ms DiMaggio's jewelry.
Indiri Silver Jewelry: Made in Bali, each item is Fair Trade and handcrafted with pride in villages that specialize in ancient jewelry making, with techniques passed down over generations.
Musical entertainment will be provided by TINKU, performing over 19 musical rhythms from throughout Latin America on authentic native instruments.
0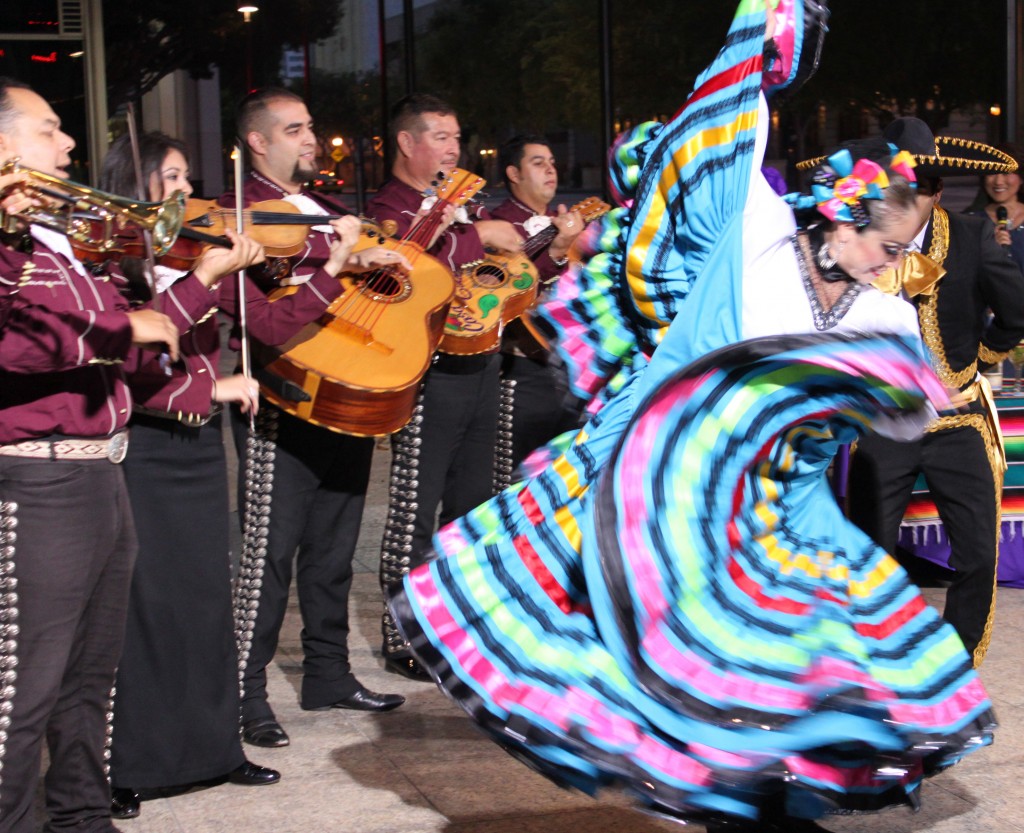 Cinco de Mayo celebrates the Battle of Puebla, in which Mexican troops prevailed over French forces on May 5, 1862. Mexico's soldiers, greatly outnumbered, defeated the army that was thought to be the most powerful in the world at the time. Though it did not stop the French from taking control of Mexico, the victory boosted the nation's morale and determination to fight the invasion.
In honor of the holiday, Diane Powers first launched Old Town's Cinco de Mayo festival in 1983. Today, she continues her tradition of celebrating Mexican culture with lively revelries at her Bazaar del Mundo Restaurants.
Specials on food and drinks include: the festive "Cincorita" margarita – strawberry, Midori (melon flavored liqueur) and lime in layers of green, white and red, paying homage to the Mexican flag; and Enchiladas Guadalajara – a shredded beef enchilada with salsa roja and a chicken enchilada with salsa verde.
And, it wouldn't be one of Powers' distinguished events without strolling Mariachis and Folkloric dancers!
Also visit Powers' Bazaar del Mundo Shops in Old Town for festive and authentic Cinco de Mayo attire and decorations for your own home or party.
Join us Thursday through Saturday, May 5–7, for live entertainment, promotional giveaways, delicious food and drink specials, and a fiesta unlike any other!
0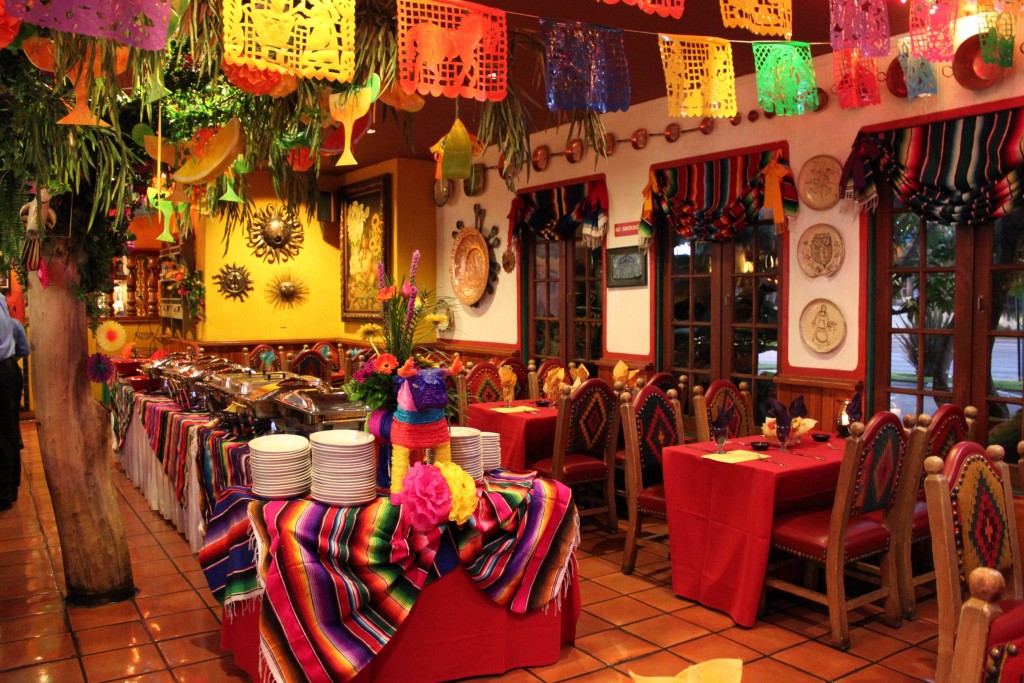 Have a special occasion coming up? A big family birthday, rehearsal dinner or company milestone? Give your gathering some fiesta flare by hosting it here at Casa Guadalajara!
Indulge in authentic award-winning Mexican cuisine and Birdbath Margaritas among beautifully decorated dining rooms and an enchanting outdoor patio. Decorated with hand-crafted furnishings, fine Mexican folk art, and colorful hand-painted murals, guests feel the warmth and romance of Mexico as soon as they enter the door. Our world-class strolling mariachis add a level of fun to the festive atmosphere.
Casa Guadalajara offers abundant banquet and catering menu options, including gluten-free, vegetarian and healthy dining selections. Only the freshest ingredients are used for our 14 salsas and sauces made fresh daily, delicious selections of homemade salad dressings, and hot corn and flour tortillas prepared throughout the day. Choose from one of our affordable event packages, or let us work with you to custom design your perfect menu.
Give your guests a fiesta to remember!
To let us bring the fiesta to you, call us at 619 295-5231 to discuss party-to-go options or visit our website to view our take-out catering menu.
0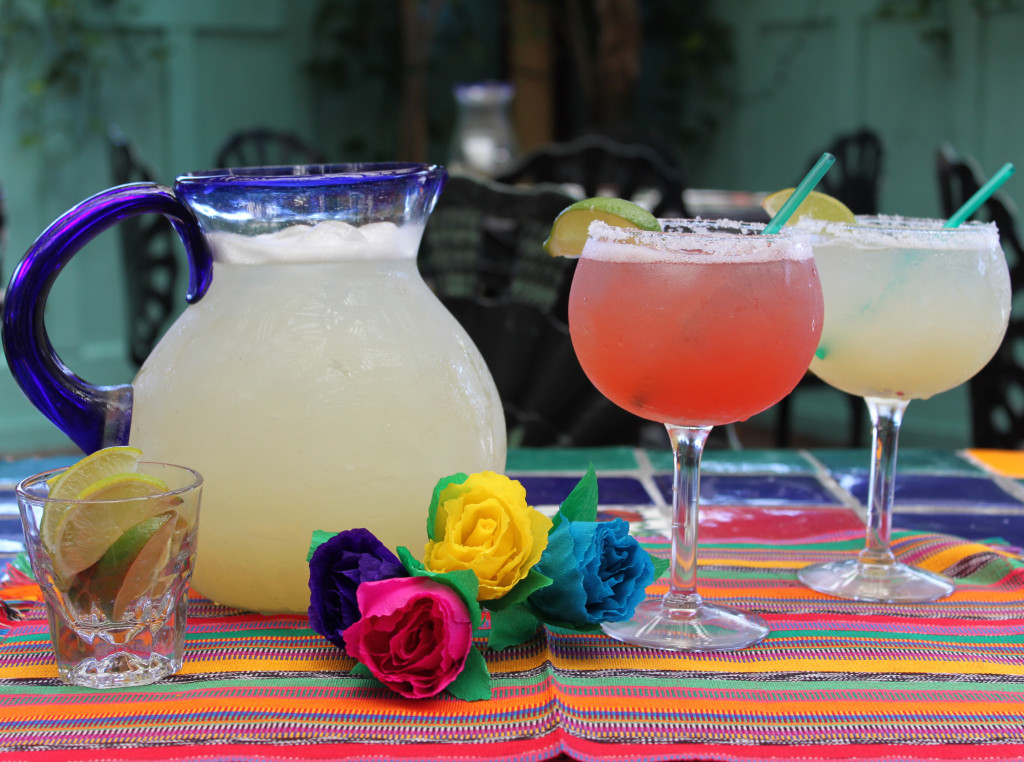 You've heard about love at first sight, but at Casa Guadalajara we believe in love at first bite! This Valentine's Day, bring your loved ones for an unforgettable authentic Mexican experience. Here at Casa Guadalajara, we offer a variety of delicious Mexican dishes in generous portions perfect for sharing. Start your meal with our popular Antojitos Platter, which includes a few favorites like our cheesy quesadillas, taquitos and nachos — all bursting with mouthwatering flavors.
Our beautiful ambiance and lovely décor are more than enough to make any guest fall head-over-heels. Decorated with colorful streamers and surrounded by splashing fountains, our courtyard is the ultimate destination for any romantic occasion. Sit under the stars as you enjoy the charming music of our strolling mariachi. Don't forget to indulge in one of our birdbath margaritas as you listen to the festive tunes! In tasty flavors like strawberry or mango, these drinks are also big enough to share and are sure to get the fiesta started.
With delicious entrees like Tequila Lime Shrimp or Carne Asada Tampiqueña on our fabulous menu, it may be hard to pick just one! Room for dessert? Our Deep Fried Ice Cream is sure to get your appetite going again.
Make this Valentine's Day an unforgettable one. Fall in love with the taste of Mexico at Casa Guadalajara!
0
If you've visited Casa Guadalajara lately, you may have noticed our restaurant is alive with the holiday spirit. But did you know that much of our décor comes from the same artists and vendors found at Bazaar del Mundo in Old Town?
Throughout the Shops, you'll find a large collection of wonderfully dressed Christmas trees adorned with hand-crafted ornaments, Mexican paper flowers, colorful ribbons, and – for something a little out of the ordinary – creative folk art masks, dolls and gourd ornaments. These pieces of art are stunning on a tree or as gifts!
If you're searching for holiday pieces to decorate your mantel or dining room table, Bazaar del Mundo has a wide selection of hand-carved nativities and festive poinsettia table runners that will add holiday cheer to your home.
The holidays will be here before you know it! Visit Bazaar del Mundo in Old Town to find unique décor items from all over the world that will help turn your home into a holiday oasis. And, if you're looking to host a holiday party at home, consider Casa Guadalajara for your catering needs. We can bring the holiday fiesta to you! Visit our website or call 619-295-5111 for more information.
The Guadalajaran's RSS Feed