The Guadalajaran
This user hasn't shared any profile information
Posts by The Guadalajaran
0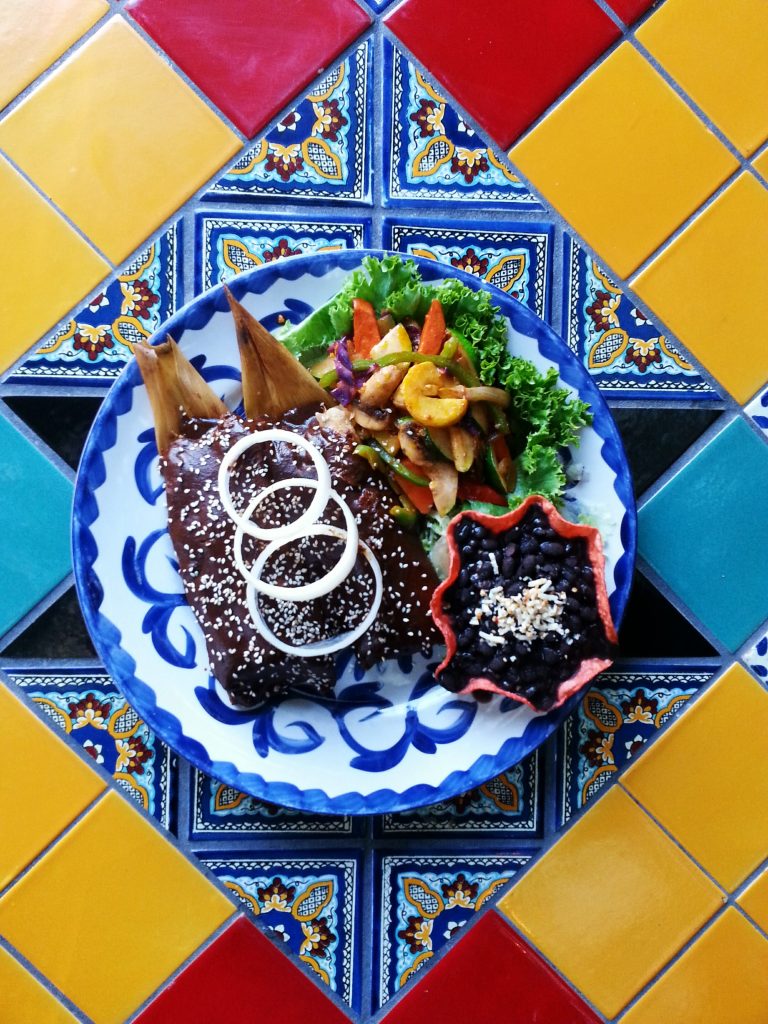 'Tis the season for festive flavors!
Available through the New Year, come taste our delicious seasonal specials, including our famous Turkey Mole Tamales – two handmade tamales filled with turkey, raisins, chopped pecans and apples, all topped with a mole sauce and sesame seeds.
Additional seasonal items include Green Chile and Cheese Tamales – two handmade special tamales filled with Monterey Jack cheese, California chiles and corn, topped with salsa verde and cheese and served with an arroz poblano and beans – and a moist Chocolate Lava Cake filled with warm bittersweet chocolate lava, topped with Mexican chocolate ice cream and fresh whipped cream. Click HERE to view the rest of our seasonal specials.
Casa Guadalajara is open for outdoor dining on our expanded (and heated!) patios, as well as takeout and delivery (via DoorDash and Postmates). 
Click HERE to view our full menu. For questions or to place an order for pick-up, call us at 619-295-5111.
0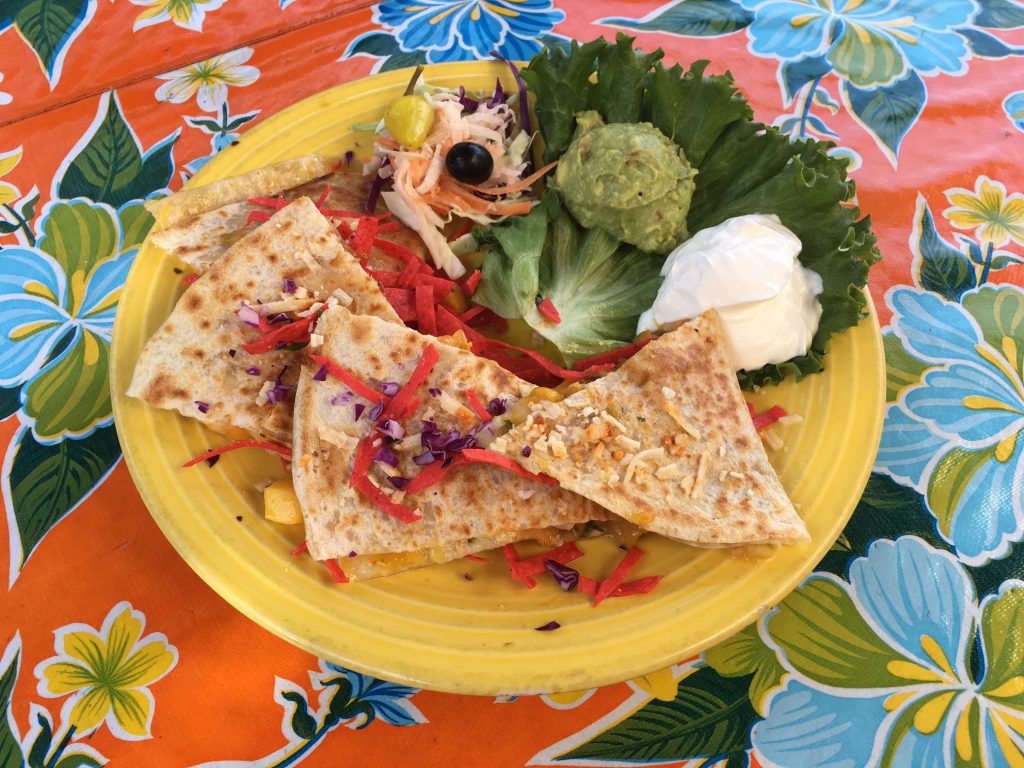 Mango Salsa
16 oz. mango cut into 1 cm. cubes
1 medium red onion chopped
2 bunches cilantro – chopped
2 oz. fresh lime juice
2 oz. jalapeño – chopped fine
2 red bell pepper – diced
Mix all ingredients together, cover and refrigerate at least 2 hours to let flavors marry.
Place one medium sized flour tortilla on a hot grill. Add a layer of 2 oz. mixed cheddar and jack cheese, 4 oz grilled chicken breast, and 4 oz. of mango salsa spread liberally and top with 2 more oz. of mixed cheese and another flour tortilla. Cook till golden brown on both sides then cut into wedges. Serve with additional mango salsa on the side.
0
Enjoy Casa Guadalajara's famous guacamole with this simple at-home recipe!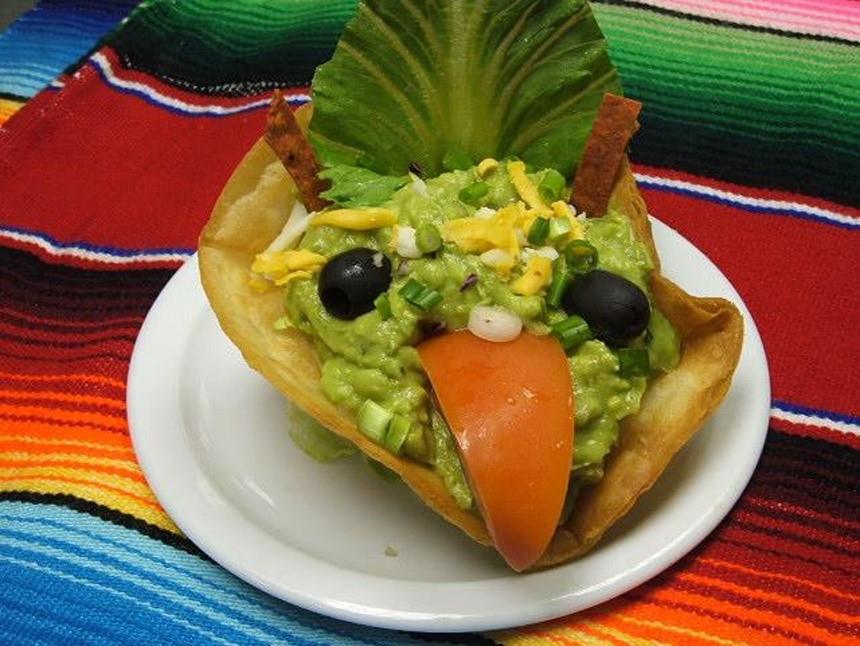 Ingredients:
4 Hass avocados
2 Limes juiced
1 Small yellow or red onion diced
1 Tomato diced
2 Tablespoons of cilantro leaves finely chopped
1 Teaspoon coarse salt (or to taste)
1 Teaspoon freshly ground pepper
½ Teaspoon granulated garlic or garlic powder
1 or 2 Serrano chiles – remove seeds and finely chopped
Instructions:
Cut avocados in half and remove pit.
Scoop pulp into medium bowl and add lime juice.
Mash avocado with fork
Mix in all other ingredients
Chill, if desired, and serve
0
This Valentine's Day, share a special 3-course menu for only $50 at Casa Guadalajara! Choose from favorites such as Mango Chipotle Mahi-Mahi and Grilled Chicken and Avocado Tacos.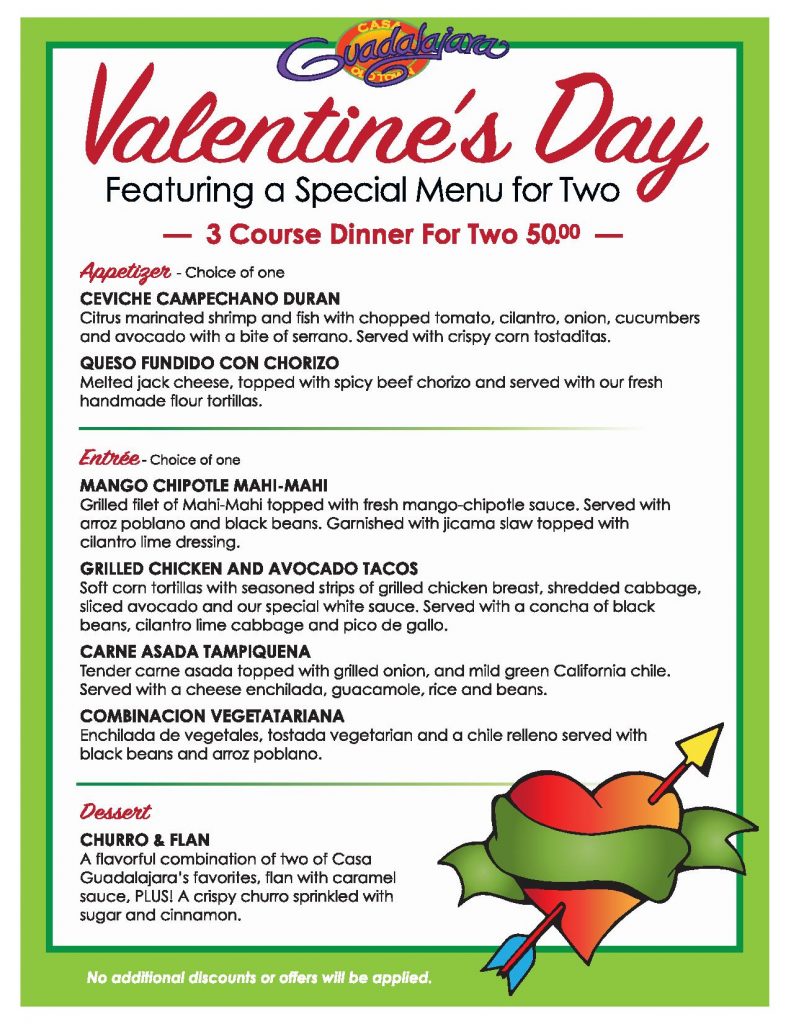 0
It's 2020 and Diane Powers' iconic Casa Guadalajara in Old Town is revamping its Happy Hour offerings with a brand-new menu. Famous for its traditional and contemporary Mexican cuisine inspired by the regional villages of Mexico, the new menu features a mix of classic favorites and original creations.
The Happy Hour menu is available in Casa Guadalajara's Cantina, Monday-Friday from 4-7 p.m. with purchase of a beverage. Dishes include: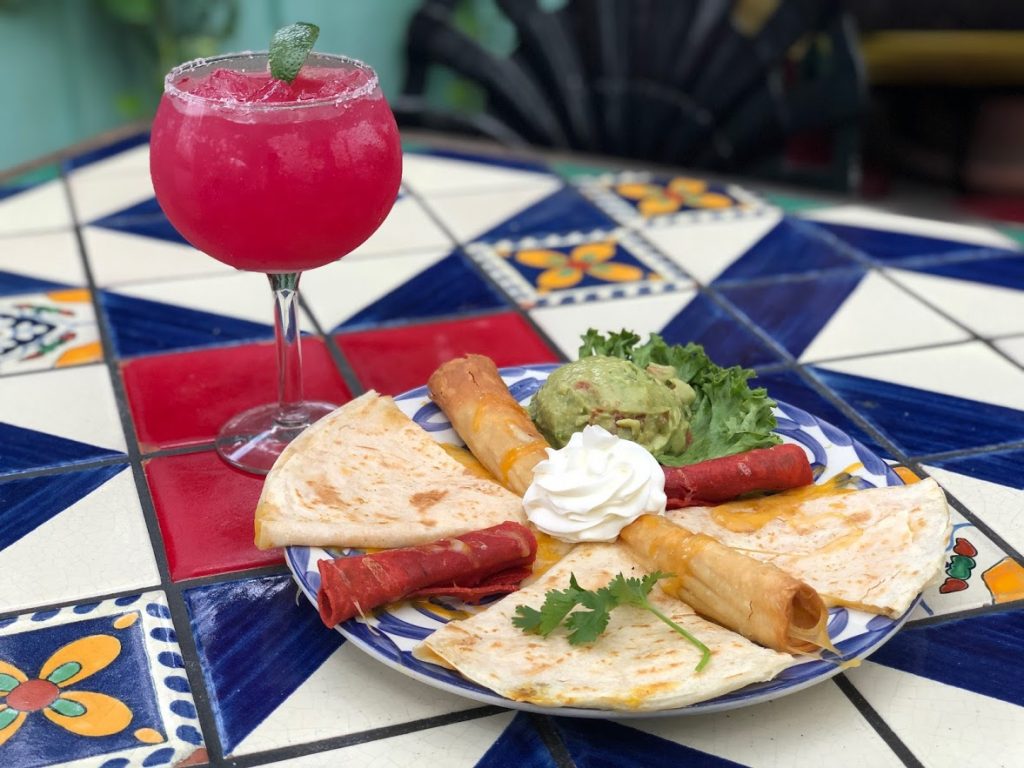 Cantina Appetizer Platter: Two crispy chipotle chicken taquitos, two quesadilla slices and two chicken flautas, paired with two mini scoops of sour cream and guacamole for $4.
Chipotle Chicken Taquitos: Pulled chicken in a chipotle tortilla, deep fried and topped with melted cheese, served with guacamole, sour cream and salsa for $6.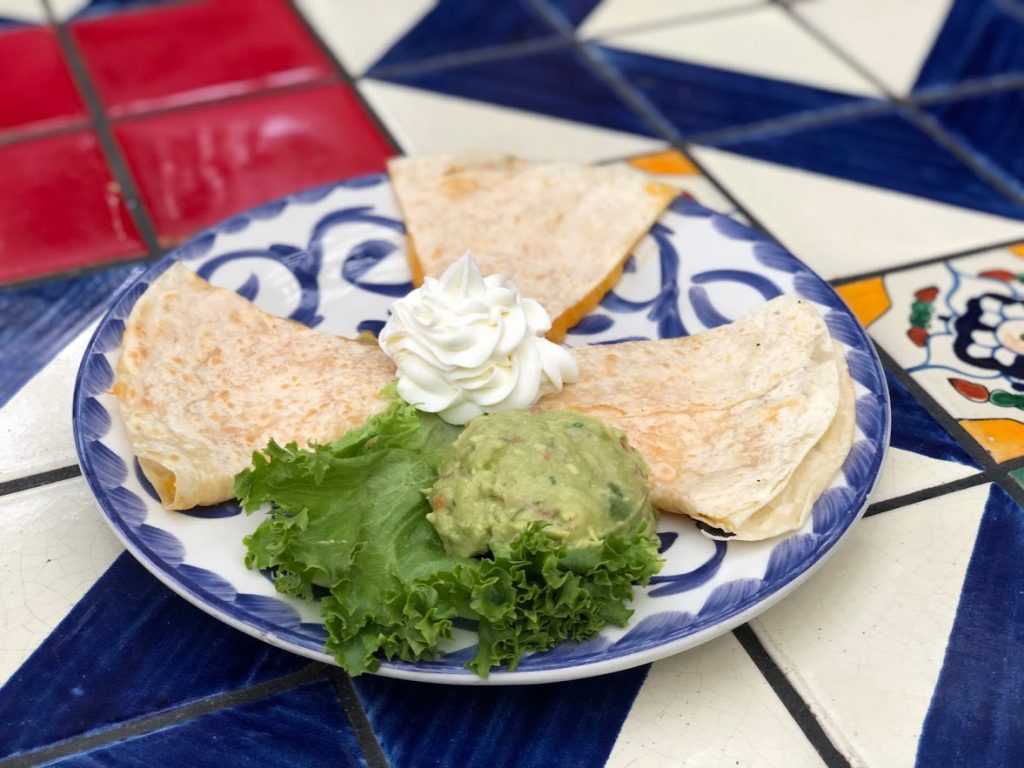 Cheese Quesadilla: A flour tortilla grilled with melted cheese and served with guacamole and sour cream for $4. Add chicken or beef for an additional $2.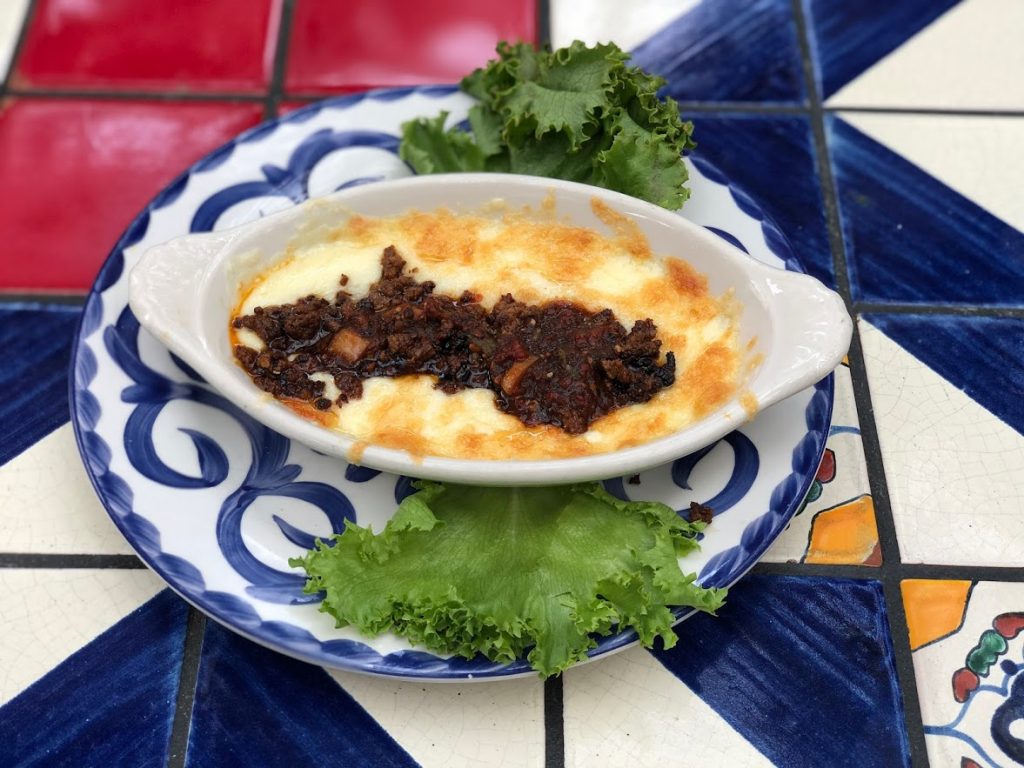 Queso Fundido con Chorizo: Melted jack cheese topped with spicy beef chorizo and served with fresh, handmade tortillas for $6.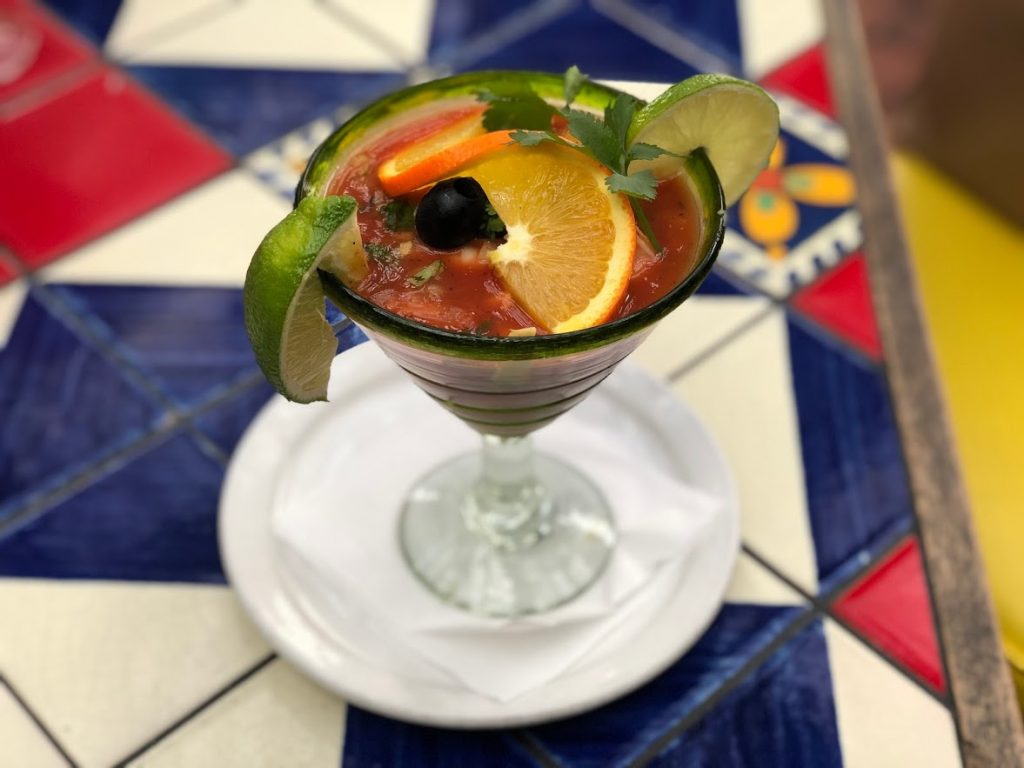 Mexican Shrimp Cocktail: Large shrimp, chunks of avocado, cucumbers, celery and onion served in a mildly spicy cocktail sauce for $8.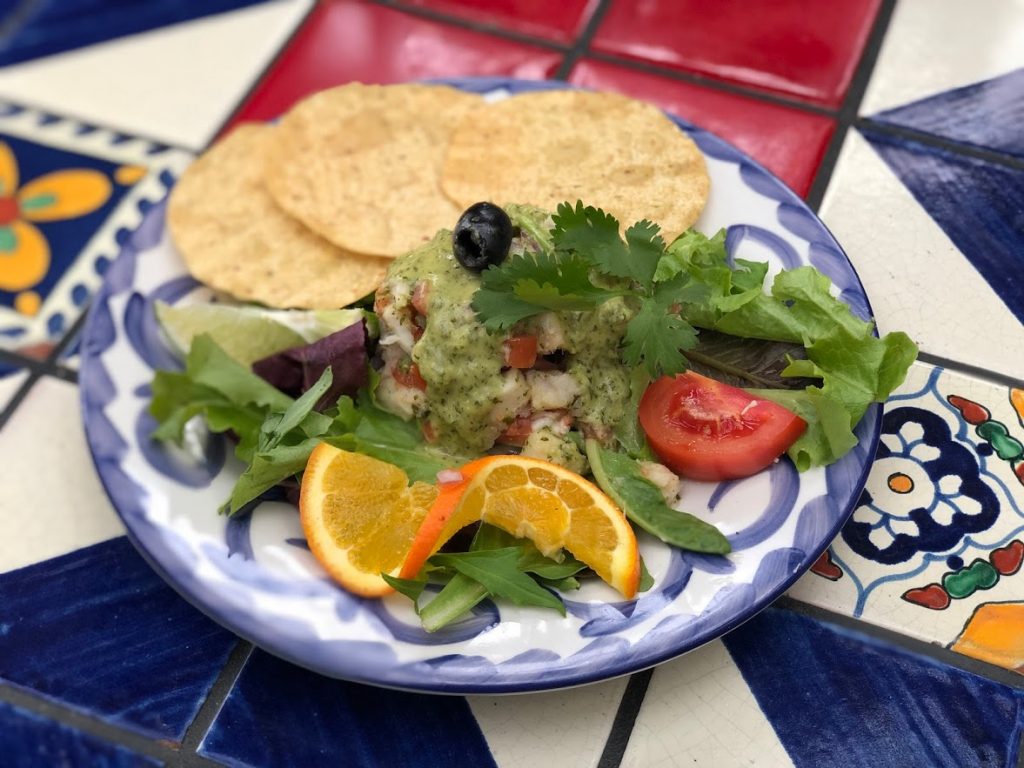 Ceviche Campechano Duran: Named after Casa Guadalajara's beloved chef, this dish features citrus marinated shrimp and fish with chopped tomato, cilantro, onion, cucumbers and avocado with a bit of serrano peppers, served with crispy corn tostaditas for $8.
"With delicious mixed drinks and margaritas that come in a variety of flavors, Casa Guadalajara's Happy Hour is known as one of the best in Old Town," said Casa Guadalajara owner Diane Powers. "We're excited to introduce this new menu and invite everyone to come fiesta with us!"
0
San Diego Restaurant Week is back from January 19-26! Join us for a week of delicious dishes and discounts. Check out our special lunch and dinner menus below.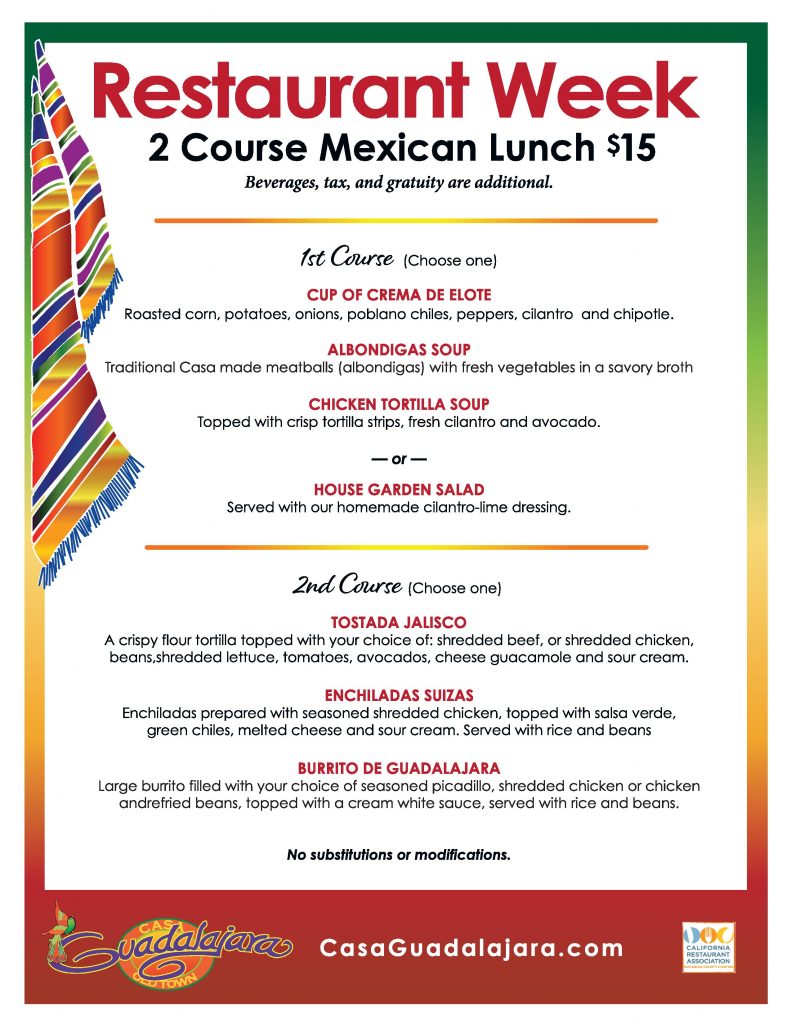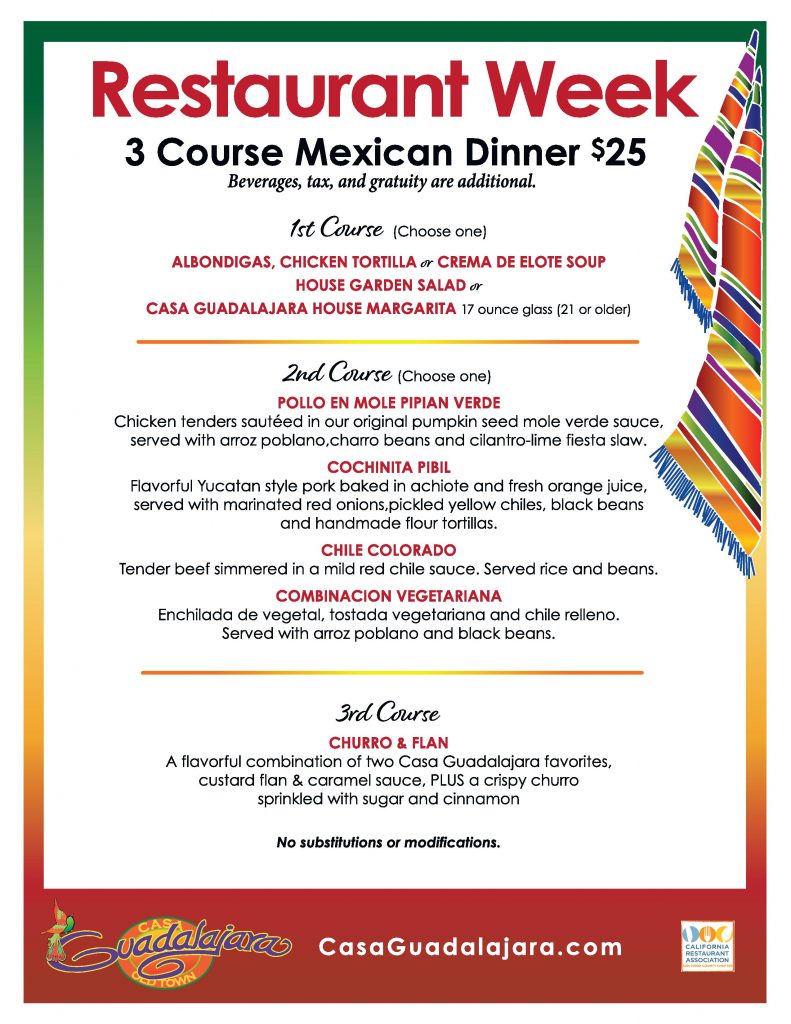 0
Casa Guadalajara's seasonal specials have arrived! Holiday favorites such as Turkey Mole Tamales and Cranberry Chipotle Chicken are back. Join us for dinner tonight!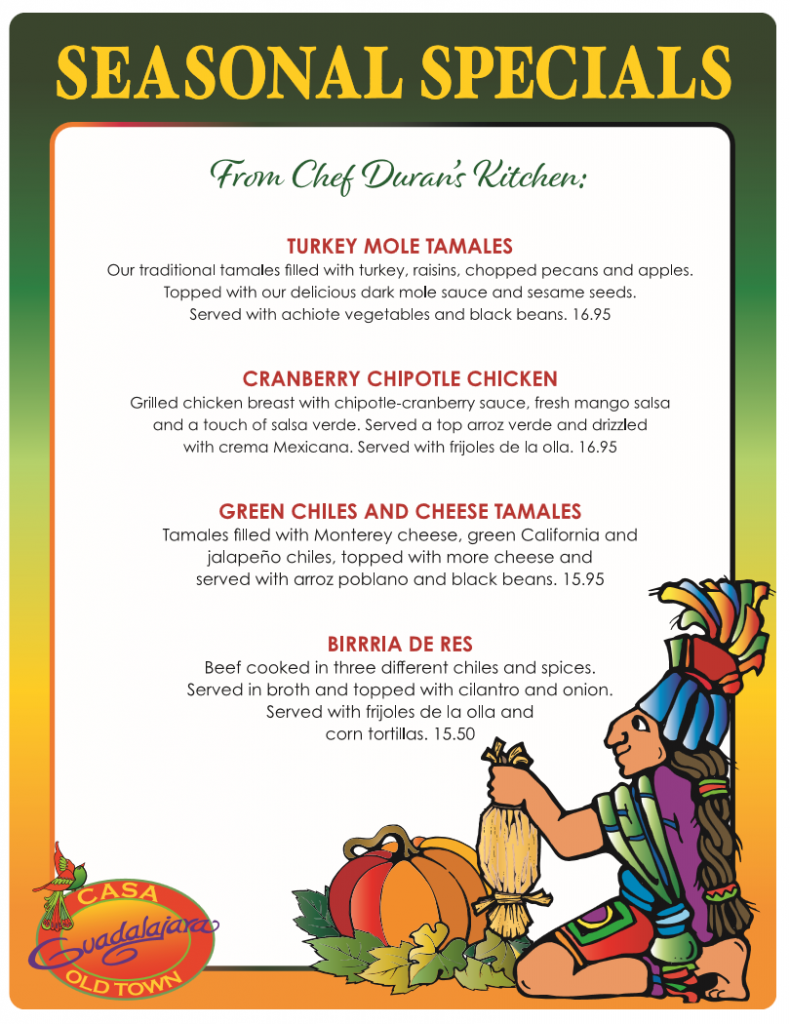 0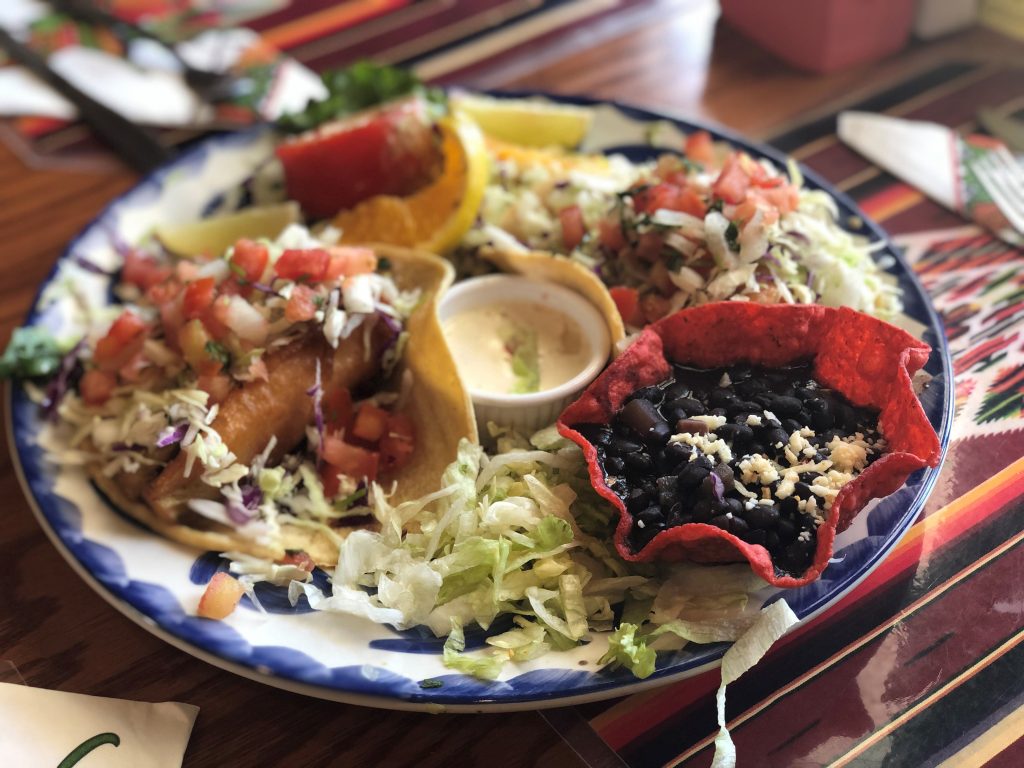 Celebrate National Taco Day this Friday October 4 with the "Best No Fish Tacos" in San Diego! This vegetarian favorite features seasoned zucchini fried crisp in a spicy batter and served in corn tortillas with cabbage, black beans, pico de gallo and a special sauce.
The dish typically sells for $14.95, but on National Taco Day guests can enjoy this best-seller for a special price of $12.95!
0
Love trying new restaurants? San Diego Restaurant Week is the perfect time to do just that! Check out the special menus Casa Guadalajara will be serving for San Diego Restaurant Week, September 22-29.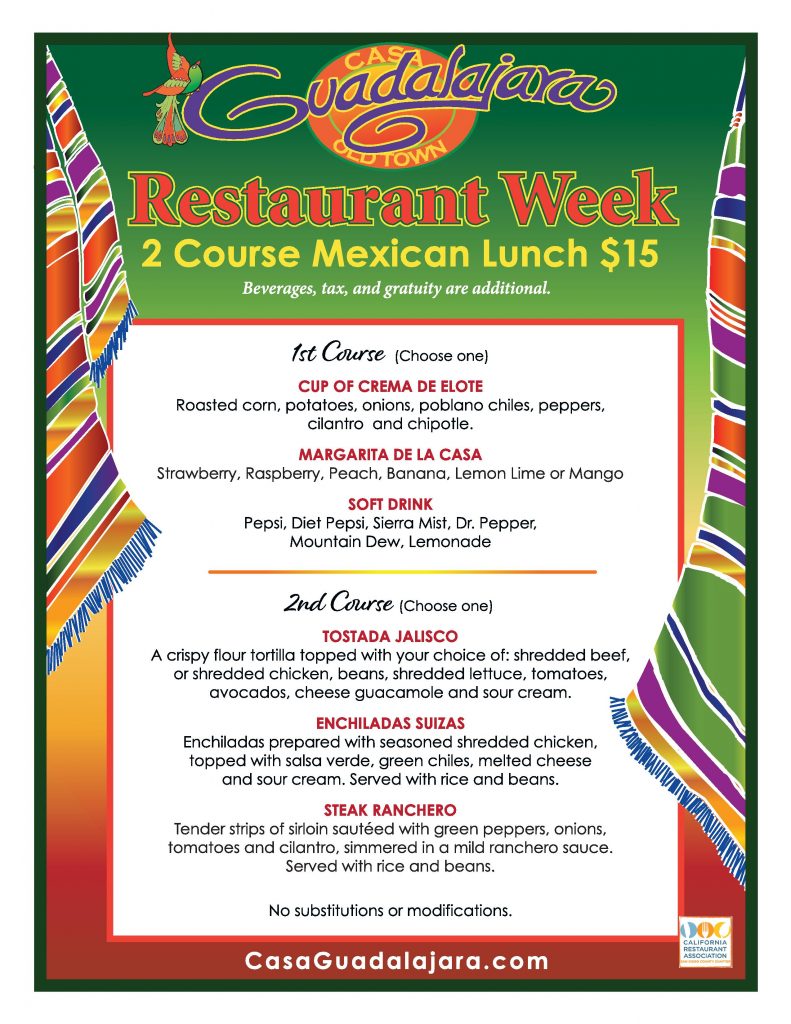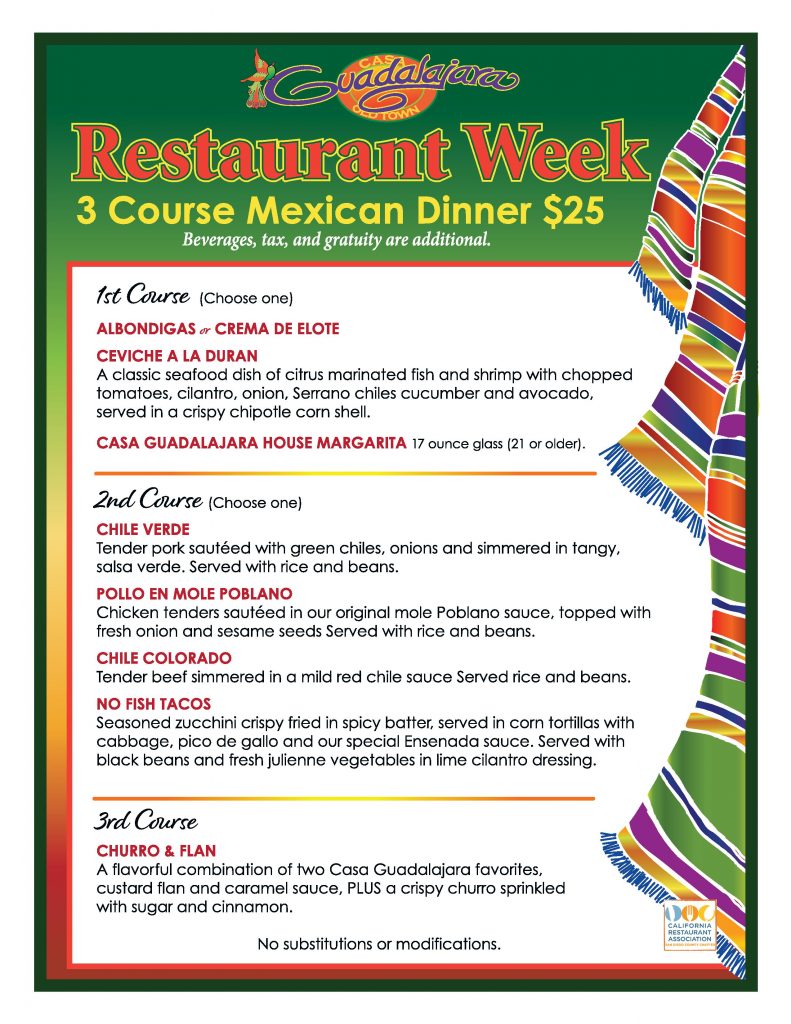 The Guadalajaran's RSS Feed