Posts tagged
Casa Guadalajara Mexican Restaurant
0
This Valentine's Day, share a special 3-course menu for only $50 at Casa Guadalajara! Choose from favorites such as Mango Chipotle Mahi-Mahi and Grilled Chicken and Avocado Tacos.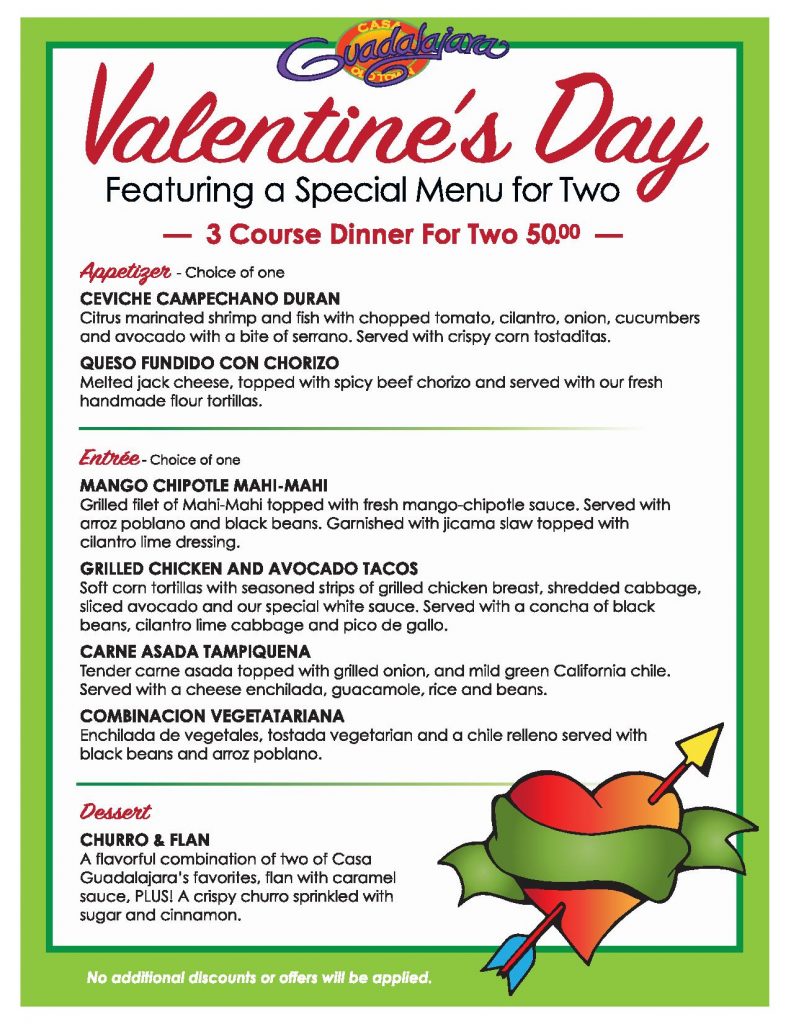 0
Celebrate at Casa Guadalajara or let us cater your at-home fiesta.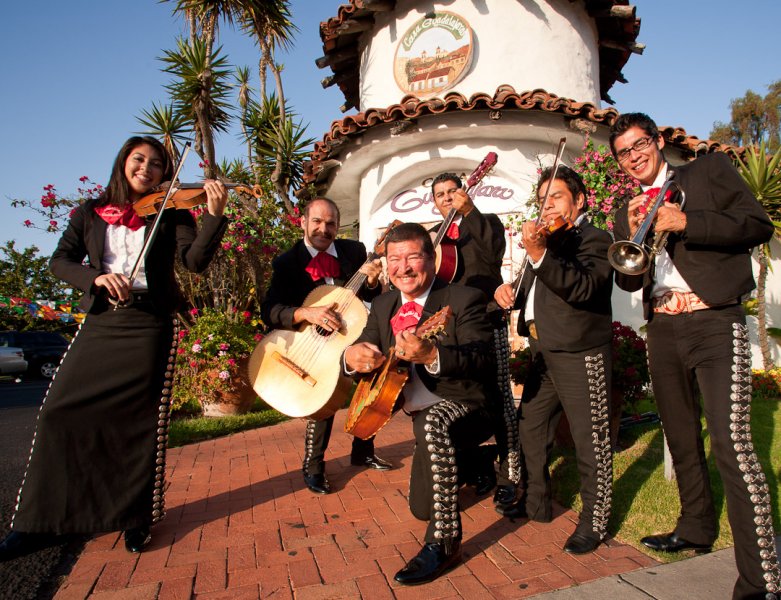 Diane Powers was the first to bring a Cinco de Mayo celebration to Old Town in 1983, and today she continues her dedication to the Mexican culture with lively celebrations at her family of restaurants.
Join us at Casa Guadalajara May 3-5 for several days of strolling mariachis and Folkloric dancers, tasty food, and drink specials!
Festive entertainment will begin at noon Saturday, Sunday and Monday with Troubadours, followed by mariachi and Ballet Folkloric performances.
On May 5, drink specials will start at noon in the Cantina, with promotions including Margarita de Cointreau for $5.95 from noon to 2 p.m., MargaFrida (Frida Kahlo margarita) for $6.95 from 4-6 p.m., Herradura Silver Shots for $5 from 6-8 p.m., and Herradura Skinny Margarita for $6.95 from 8:15-10:15 p.m. Saturday, Sunday and Monday, some of our most popular antojitos (appetizers) will also be on special in the Cantina, including the Cheese Quesadilla, Nachos Chicos, Tostadita and Taquitos Chicos for $4.95, and Mini Ceviche for $5.95.
Join us for a great weekend of delicious Mexican food, drinks and entertainment. Or, if you're planning a party at home, let us cater. We promise to "WOW" your guests with tasty antojitos (appetizers), flavorful entrees and sides, fresh tortillas, and sweet postres (desserts).
Visit our website for catering information: www.casaguadalajara.com.
0
Imagine it's 1920. You live in abject poverty, and the Great Depression just north of the border of your home in Mexico is looming. Your father suddenly passes away, and now it's just you and  your brother. And you are 12 years old.
A sad story, isn't it? Not for Filemon Rodriguez. He and his brother used what resource they had, a harp in their living room, and taught themselves how to play music by ear. No lessons, just learning by playing the same songs over and over. The boys scratched out a living by playing music in the streets. Not only did they scratch out a living, but a family profession that is now in it's third generation was born.
Filemon went on to have a family of his own: 4 boys and 3 girls. One of his sons, Luciano Rodriguez, became a professional musician. His band, Cielito Lindo, has been playing at Casa Guadalajara since 1996. Their repertoire includes over 2000 songs. And it all started with his father learning to play on a harp to feed his family.
Casa Guadalajara is known as one of the finest San Diego Mexican Restaurants. Our food and our margaritas are legendary. We consider Cielito Lindo to be just as important an ingredient of our success. Visit our website at http://www.casaguadalajara.com and click on "Entertainment" at the top of the page. You'll be taken to the schedule of Cielito Lindo. Make it a date to come, have dinner and hear this amazing group of talented musicians with such a rich heritage of playing their music with passion. It's part of what makes Casa Guadalajara the most unique mexican restaurant in San Diego.