It's Spring – Eat Green!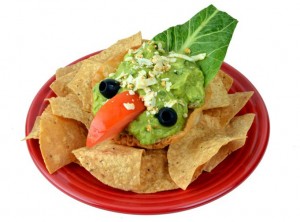 St. Patrick's Day is over, but we're still seeing lots of green! When you see "verde" on our menu, you can bet it will be fresh, flavorful and delicious. Take our green food challenge and try something green from our menu on your next visit:
Pescado & Camarones Verdes: a filet of cod topped with three jumbo shrimp, salsa verde and melted cheese atop our Mexican rise, served with a concha of black beans
Enchiladas Verdes de Pollo: seasoned shredded chicken wrapped in two corn tortillas, topped with tomatillo sauce and served with a concha of black beans and cilantro lime fiesta cabbage
Green Chile & Cheese Tamales: two tamales filled with jack cheese and California chiles, topped with salsa verde and more jack cheese, served with black beans and Mexican rice
And of course, we can't forget our tasty (and cute!) Concha de Guacamole. You'll love this crispy flour tortilla with fresh guacamole, sprinkled with jack and cheddar cheese and served with chips.
See our full menu here.






This site uses Akismet to reduce spam. Learn how your comment data is processed.