Posts tagged
Black Friday shopping
0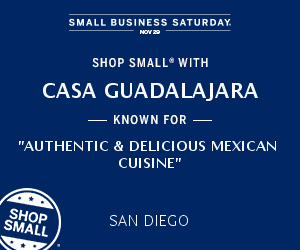 On the busiest shopping weekend of the year, American Express is reminding us to shop and dine locally with its Small Business Saturday campaign.
While you're out doing holiday shopping at Bazaar del Mundo next door, take a break and join us at Casa Guadalajara to sip a frosty margarita and try one of our new healthy dining creations such as Camarones del Pacifico – the ultimate shrimp ceviche marinated and poached in Pacifico beer, lime juice, red onions, Tajin and cucumbers (290 calories). When you eat at Casa Guadalajara and shop at Bazaar del Mundo, know that you are supporting local businesses in your community.
Small Business Saturday is a national campaign that rewards American Express users when they shop and dine at local businesses, making a contribution back to their communities. AmEx users who have pre-registered their card, will receive a credit back on their statement up to $30. For more info about the campaign, visit: www.smallbusinesssaturday.com.