"Day of the Dead" Rises at Casa Guadalajara & Bazaar del Mundo, Nov. 1-3
Spirited Weekend Celebration with Altars, Live Entertainment, Face Painting, Crafts and More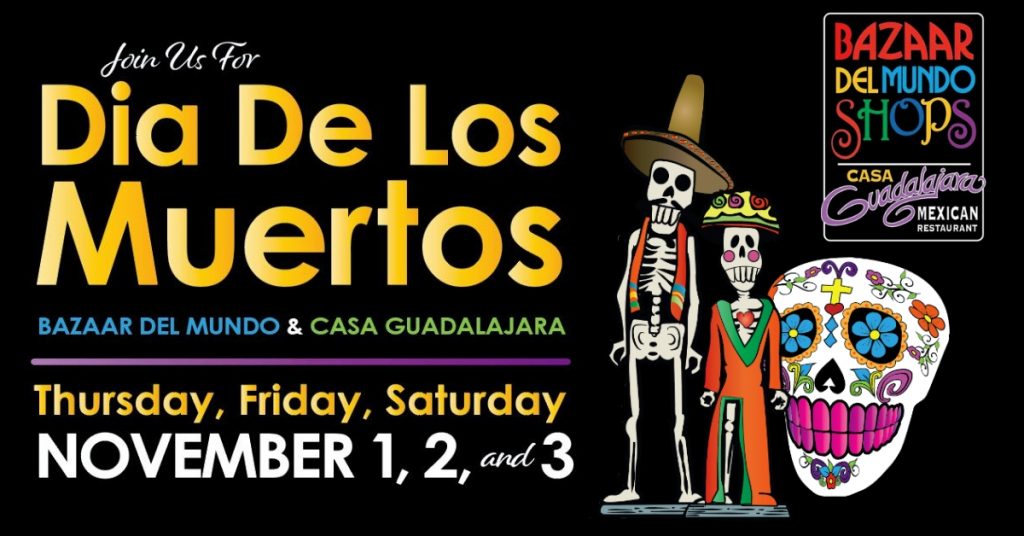 In honor of one of Mexico's most vibrant holidays, Old Town icons Bazaar del Mundo and Casa Guadalajara will team up to celebrate Día de los Muertos, Thursday through Saturday, November 1-3.
The entrance to Casa Guadalajara will become a marketplace of artisans and merchandise from Bazaar del Mundo, face painting, a life-size Catrina (a female skeleton figure donning a Mexican folkloric dress and hat) sitting in an Instagrammable1800s carriage, and mouth-watering cuisine for purchase. Inside, Casa Guadalajara's servers will be in traditionally painted skeleton faces, while the restaurant's iconic fountains will be turned into elaborate altars to celebrate and remember loved ones. Guests can indulge in holiday-themed specials, such as the Muertos Margarita – a delicious commemoration of Dia de los Muertos, and the authentic Muertos Mole Dinner featuring one of the favorite dishes of Oaxaca, Mexico.
In the Bazaar del Mundo Shops, at 4133 Taylor Street, visitors will find more artists displaying their Día de los Muertos-themed work and collectables, plus additional altars and opportunities to participate in free family friendly activities – including sugar skull decorating, mask making, coloring and more.
Throughout the weekend, delightful performances from lively Ballet Folklorico dancers and Casa Guadalajara's world-class Mariachi band – all in painted skeleton faces – plus Chinelos dancers, will take place. Popular in Mexico but rarely seen in the United States, Chinelos dancers dress in vibrant, traditional costumes designed to mock Europeans and European mannerisms from the colonial period to the end of the 19th century.
"Día de los Muertos is one of our most beloved holidays," said Bazaar del Mundo and Casa Guadalajara Owner Diane Powers. "For those heading to Old Town's candlelight procession on Friday, be sure to stop by our celebration first to get into the spirit! Our fabulous face painters, flower crowns and masks will complete any Día de los Muertos ensemble."
Celebrated every November 1 and 2, Día de los Muertos honors loved ones who have died, creating elaborately decorated altars with treasured items from their lives, and traditional elements such as marigold flowers, candles, water, bread and salt.
The festivities will begin on Thursday with the Old Town Altar Walk. Beginning at Bazaar del Mundo and Casa Guadalajara, maps will be given out for the walking tour throughout Old Town to view more than 40 beautifully decorated altars. Then, Bazaar del Mundo and Casa Guadalajara's marketplace and celebration activities will take place Friday and Saturday, 10 a.m. to 8 p.m. Guests may park for free across the street at Caltrans (after 5 p.m.  Friday and all day weekends), or take the trolley.






This site uses Akismet to reduce spam. Learn how your comment data is processed.