Celebrate Cinco de Mayo at Casa Guadalajara!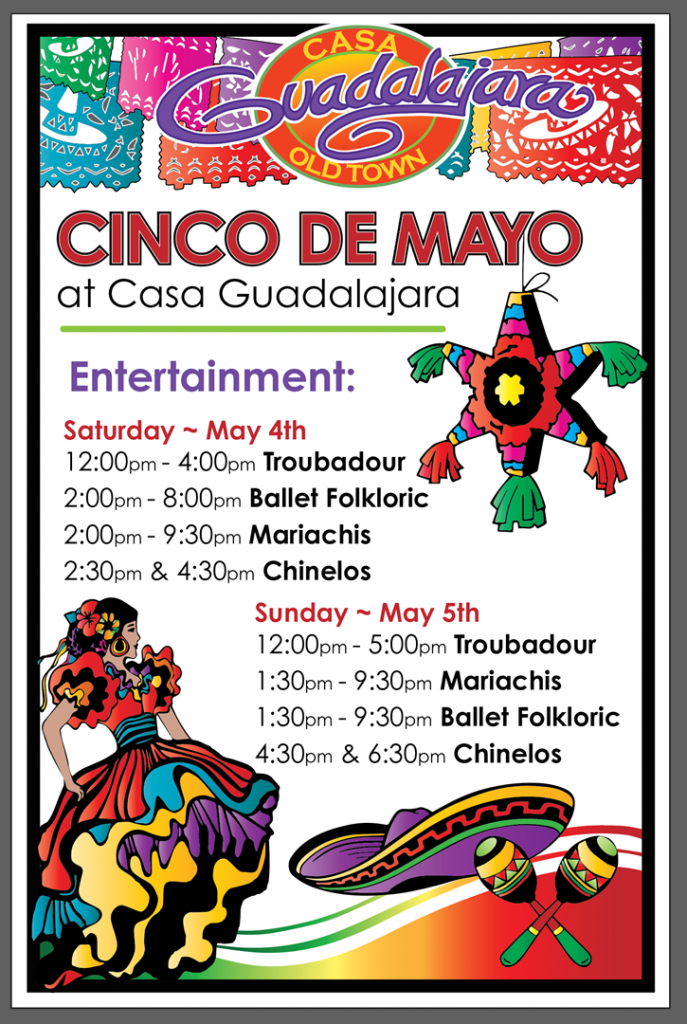 In honor of one of Mexico's most iconic holidays, Diane Powers' Casa Guadalajara restaurant and Bazaar del Mundo Shops will team up to celebrate Cinco de Mayo in Old Town, Saturday, May 4 and Sunday, May 5.
Outside the entrance to Casa Guadalajara Mexican restaurant, guests will be welcomed into a charming and lively marketplace filled with Mexican folk art, crafts, handmade clothing, accessories, plus delicious traditional Mexican street food for purchase and activities for kids.
Inside, Casa Guadalajara will be bursting with festive colors and decor. Guests can enjoy "Cinco" inspired fare, such as "Cincoritas", delicious strawberry, kiwi, and lemon-lime margaritas decked out in the colors of the Mexican flag; and "Enchiladas Banderas," a savory sampling of chicken, cheese and beef enchiladas served with three different sauces — rojas, verde, and blanca (red, green, and white).
In the Bazaar del Mundo Shops, next to Casa Guadalajara at 4133 Taylor Street, visitors will find more artists displaying their Cinco de Mayo-themed crafts and collectables. Traditional Mexican clothing, carefully hand-selected folk art, jewelry and home decorations in vibrant colors will also be available for purchase and decorating inspiration.
Throughout the weekend, delightful performances from lively Ballet Folklorico dancers, Chinelos dancers and Casa Guadalajara's world-class mariachi band will take place. The word "Chinelo" comes from the Nahuatl tzineloa, which means shoulder and hip movement. This unique dance is performed by many dancers dressed in elaborate, colorful costumes and is popular in Mexico but rarely seen in the United States. There will be multiple performances on both Saturday and Sunday.
"Cinco de Mayo is a day to come together and celebrate Mexican culture, cuisine and music," said Bazaar del Mundo and Casa Guadalajara owner Diane Powers. "On this day of festivities there's no better place to be than Old Town, the historic heart of San Diego."
Recognized every May 5, Cindo de Mayo commemorates the Battle of Puebla, in which vastly outnumbered Mexican forces defeated the Imperialist French Army of May 5, 1862. This festive celebration has been adopted in many of the border cities in the U.S. over the last several years.
Bazaar del Mundo and Casa Guadalajara's marketplace and celebration activities will take place Saturday from 10 a.m. to 8 p.m. and Sunday from 10 a.m. to 5:30 p.m. Guests may park for free across the street at Caltrans or take the trolley, which stops one block south west of Casa Guadalajara in Old Town.



This site uses Akismet to reduce spam. Learn how your comment data is processed.